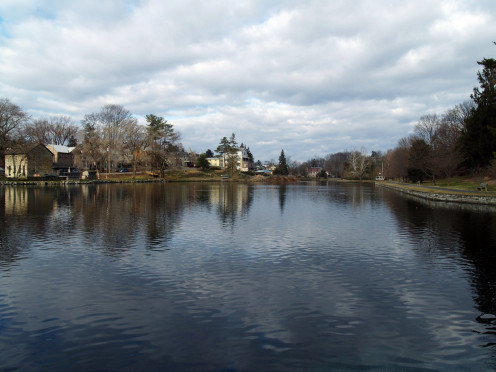 Historians can only speculate why Daniel Kaufman bought 48 acres of land from his father, Abraham, and settled the small village of Boiling Springs in 1843. The popular theory is that he was intending to sell lots to raise money to help his father pay off debts that amounted to more than $1,900 which was a huge sum of money in those days.
There was another theory that he founded the village because of the iron works that was nearby, but that won't work as a reason because by the time 1843 rolled around, the iron works was in great disrepair and was up for sale and didn't seem to have too much potential to draw in anyone who would be looking for work and who would want to settle in the area.
But, no matter the reason, he was planning his little village to be built on rich farm land. It had streams for fishing and even had a lake that, even though was man made, still offered up a beautiful scenic view. It sounded like an ideal place to put down roots, to build a house, to start and raise a family. I think Daniel, in his way had "far vision" the ability to see or dream about what the future could be like.
I am not a historian by any means, and I don't have an extensive knowledge about the history of Boiling Springs. If you really want an in depth history of the place, I recommend getting a copy of At a Place Called the Boiling Springs that has been edited by Richard L. Tritt and Randy Watts.
This page is just my way of visiting again, a place that I came to love when I lived there over 10 years ago. There is something very special about Boiling Springs, there is an energy that runs through and around it. Maybe it's because of the water that that surrounds it an even runs under it, water is, after all water is one of the basic elements of life that helps to give substance to our world.
Note: All photos are courtesy of Glory Miller (that's me) and old postcards are from the personal collection of Glory Miller (hey, that's me, too!)
The Ege Mansion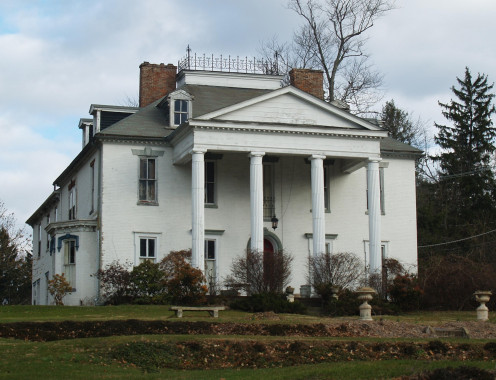 One of the most beautiful and hard to miss buildings in the small village is what used to be the Ege family mansion that was built by Michael Ege Sr. around 1780. It is a Federal style building that boasted twenty three rooms.
In 1775, Ege purchased one eighth of the Carlisle Iron Works which has been started around 1762 by John Rigby & Co. Ege eventually took over sole ownership of the iron works by 1792.
Called by different names; Ege Mansion, Big House, Ironmaster's Mansion.
Once the Ege family could no longer maintain the iron works, it and the mansion went up for sale around 1859. It has been hinted that Peter Ege, who inherited it from his father, Michael Jr, wouldn't or couldn't run the business so it had to be sold.
It was purchased by Cary Ahl and several of his brothers in 1863. Ahl took up residence at the mansion (his brothers lived in Newville) and remodeled it in the 1870s and then made a few more changes in 1881. Ahl died at the mansion in 1885. By the time of Ahl's death new advances in iron making had put the Ahl's out of the iron business.
After Ahl's death, the mansion was purchased by Jared C. Bucher in 1887 who was the last iron master and operated the business until 1894. Bucher and his wife, Helen, named their home Highland Terrace. They renovated the home in the 1930's. The Bucher family sold the house in 1985.
The mansion has had several incarnations as a bed and breakfast, first as Highland House and then as Swan Lake.
It has been a little while since I last visited Boiling Springs, but last time I was there the mansion was sitting empty and unloved, which is such a shame, as this has the potential, in the right hands, to be the show piece of Boiling Springs. I hope it's no longer empty and not cared for, this is a wonderful piece of history for the community and for Cumberland County as well.
George Ege died when Michael was only six years old. He and his older brother George were brought up by his uncle the Baron Von Steigel of Manheim, PA. or so the story goes.
Another popular story is that Von Steigel is buried at the mansion. After losing his fortune and discovering he had no friends, Von Steigel lived at the mansion until his death. He was buried there with the intention of being moved and buried elsewhere, which never happened. There is no real historical evidence to support this claim and in fact several places in Pennsylvania claim to be home to the Baron's final resting place.
The Boiling Springs Mill Apartments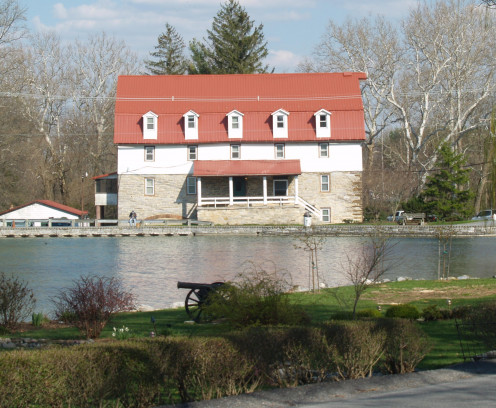 At the lower end of Children's Lake is an old mill that was built about 1784. It was originally a two story structure and has been altered many times over the years. It is now an apartment building.
It is thought that Michael Ege built the mill (although many believe, apparently in error, that it was Alexander Rhoddy) because he needed a way to provide feed and flour for the iron workers. A 1785 tax list shows that Ege owned one saw mill, one forge, one furnace and one grist mill. An older tax list from 1783 makes no mention of a mill.
The Yellow Breeches was dammed at Island Grove, a race was dug that connected the dam to the mill, with the water then fed back into the Yellow Breeches.
There was a major fire at the mill in 1896 and it was repaired in 1897.
The Mill operated until 1920 when it closed.
Eventually, in 1971 the mill was turned into an apartment building.
The little mill was used in the book Toward the Morning by Hervey Allen published in 1948.
Children's Lake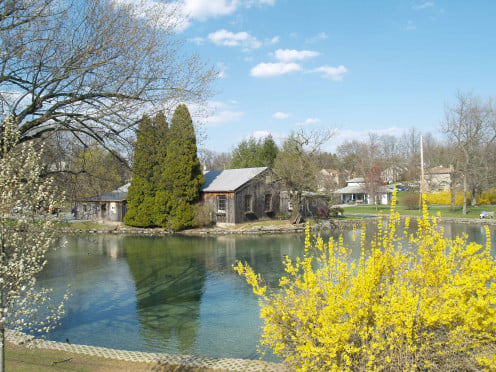 This man made lake was formed in the 1750s and it's chief purpose was to power the bellows of the iron furnace.
Originally pear-shaped, time and weather have eroded the eastern and southern banks of the lake.
The lake is 9-acres in size.
Every day about 22 million gallons of water (at a fairly steady 53-degrees) bursts forth from the over thirty springs that flow into the lake. Some places, the water comes in from underground and when it breaks to the surface, the water appears to be boiling. This water comes from subterranean caves that are about 1,800 feet below the surface.
The lake became a very popular in the late 1800's, people would come for miles to get jars full of it's clean, clear, cool water.
At one time, a paddle wheel steamer carried folks from the lake to Island Grove.
It was renamed Children's Lake in 1987.
Daniel Kaufman House and the Underground Railroad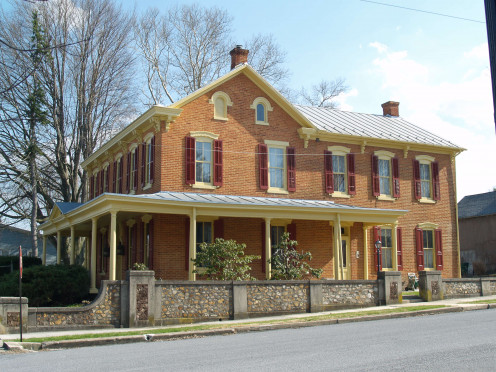 Seventeen year old Daniel believed that slavery was unjust and immoral and it was this belief that led him to became an agent for the Underground Railroad from 1835-1847. He helped many an escaped slave find their freedom by hiding them in his barn or in the heavily wooded Island Grove area on the Yellow Breeches not far from his original home.
Slave holders from Maryland did take him to court in 1852 and he was eventually fined $4,000 (some sources state $5,000) which during the time was a huge amount of money. Different abolitionist societies and his brother-in-law Stephen Weakley, helped to pay his fine. Weakley also had assisted Daniel with his work in the Underground Railroad.
He built this Federal with Italianate style house (shown in the above photo) in 1880 and there are rumors that there are secret hiding places in it, but I have my doubts. First, his role in the Underground Railroad ended in 1847, and in 1865, the 13th Amendment officially abolished slavery. By the time 1880 rolled around he would have no need for secret hiding places, unless of course, he just happened to like that kind of thing.
It is also interesting to note, that even though Kaufman was anti slavery, that sentiment wasn't highly shared by residents of Cumberland County. Nearby Carlisle had an Army post that had many southern officers stationed there. Dickinson College also in Carlisle had a lot of students who were originally from below that Mason-Dixon line. Many Carlisle churches refused to allow abolitionists to hold their meetings on their premises. Many Carlisle newspapers were also anti-abolitionist. Pennsylvania finally put an end to slavery once and for all in 1847.
Kaufman died in 1902 and his wife, Catharine died in 1907.
Of course, the Underground Railroad was neither underground nor a railroad, but simply a highly organized escape network that utilized back roads, secret meeting places, safe houses, etc This "railroad" covered 29 states and reached into Canada, Mexico and even the Caribbean.
Pennsylvania had officially abolished slavery in 1780, with the passage of the "An Act for the Gradual Abolition of Slavery" but yet by the time 1840 rolled around there were still slaves being held in Cumberland County.
Before building this house, he lived in a house near what is now the intersection of Race and Kaufman Streets.
Dr. Milton Peters House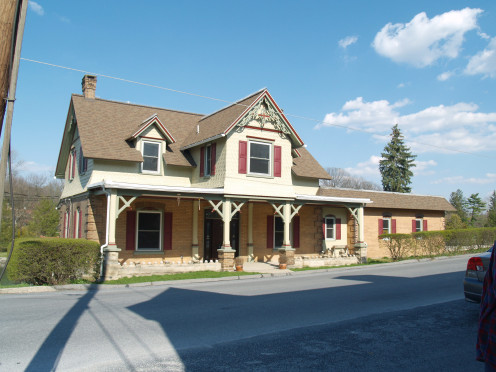 Milton Peters had dreams of becoming a doctor and worked hard and saved his money so he could attend medical school. His older brother, Clayton, who was an established teacher in Brooklyn, New York bought for his brother, a lot on Front Street for the sum of $230 on April 2, 1898. Some time later, he had a house built on the lot and his brother, Milton, having studied to become a doctor, purchased the property from his brother on November 28, 1903 for $2,000.Dr. Peters then opened his practice at the property and eventually became a prominent doctor and surgeon in the area practicing medicine all of his life in Boiling Springs. His office was in the two rooms on the right side of the house. The other 8 rooms he used for his personal residence.
The building is an Eastern Stick style design that was very popular in the US from about 1855 to 1900. This building is actually classified as a modified Eastern Stick.
Of course, the house has gone through some alterations over the years with a garage being added on that wasn't part of the original structure.
The one thing I remember about this place is when walking by it on my walks around the lake, I had to be careful because the bushes were infested with poison ivy plants!
The Boiling Springs State Bank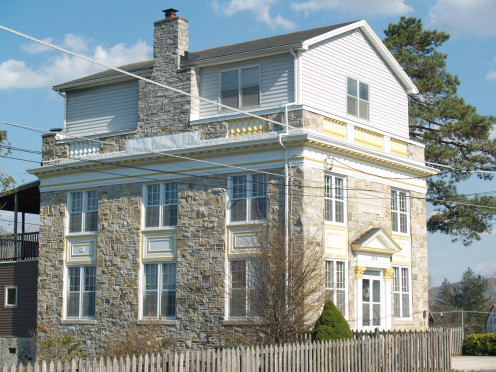 This two story structure housed the Boiling Springs State Bank. It was built in 1920 and cost $17,500.
Founding members were L. Floyd Hess, Dr. Milton R. Peters, Jared C. Bucher, Jacob Meixel and George Otto.
The bank closed in 1938.
Hess had purchased the land from Jared Bucher who then sold it to the bank on March 10, 1922.
The building was sold in 1940 to Jacob W. Kiracofe who added a frame third story and turned it into a residence.
In 1985, it was remodeled and restored, but it still has that horrible third floor addition.
In 1875, the Ahl family built the first park at Boiling Springs at Island Grove which is located on the south side of the Yellow Breeches Creek about a half mile from the village.
Cary Alh wanted to attract customers to his family railroad, but that never happened as their Harrisburg and Potomac Rail Road never really got off the ground, or is that on track. Financial problems prevented the railroad from being built.
The park was about 15 acres and had a large pavilion, as well as an restaurant and a few other buildings. There were benches scattered throughout the area and there was a playing field where folks could get in a good game of baseball. Some described the place as being offered as more of a resort than a park.
While there is no official record of when Island Grove closed, it is believed that the closing coincided with the closing of the Ahl Iron Works in 1885.
A new Island Grove did reopen for a short time in 1910, but closed down about 1912 after a fire destroyed the restaurant and it's equipment. But, while open it offered swings, see-saws, dancing, a merry-go-round along with benches and a seats for relaxation.
There aren't many photographs of the original Island Grove park available.
The Second Park at Boiling Springs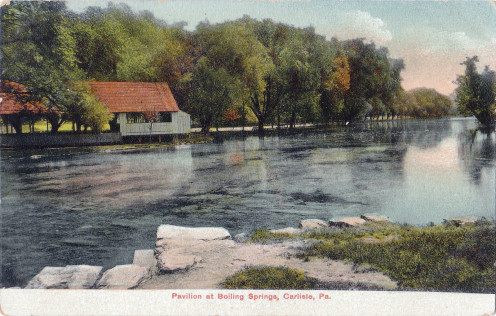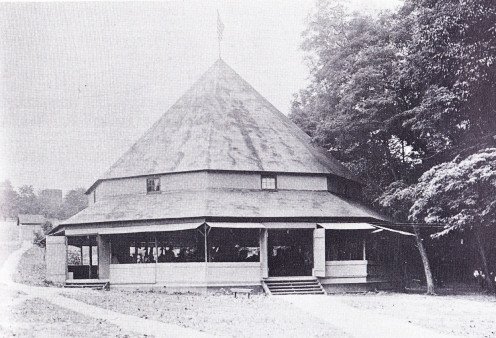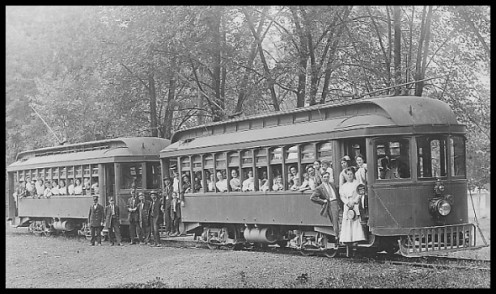 In 1896 the Valley Traction Company laid a trolley line from Carlisle to Boiling Springs. It wasn't long until the trolley was making regular stops. People often came to Boiling Springs via the trolley to enjoy a lake side picnic. Dances were also held there, too.
In 1904, the company leased 20 acres as well as the lake and opened a park. The desire was to attract riders to the trolley and for ten cents you could take a ride through the country side in the special open air trolley. That actually sounds rather nice, doesn't it?
The park had restaurants, a dance pavilion, a band stand, novelty shops and ice cream stands, a shooting gallery, a baseball and tennis areas, deer pens, Lover's Walk, and the Flying Horses carousel.
As time went on, the park began to lose its appeal, as people sought other forms of entertainment.
With the increase in automobile traffic, the park became popular again at least for a short time, but the park closed down for good in 1930. It was a victim of changing times and tastes.
Questions!!
Is there a difference between a merry-go-round and a carousel?
What makes a Flying Horses carousel/merry-go-round different from other carousels or merry-go-rounds?
Island Grove, at least the second incarnation of it, also had a merry-go-round, I believe, does anyone know what happened to that one after that park closed?